It's holiday season! As I sat struggling to finish my Christmas shopping (from the comfort of my hotel bed) the idea for this blog post hit me. Because why struggle like I did? Although to be fair, if everyone in my life was a bookworm I'd be set on the Christmas present front!
Plus, if you're not one to celebrate Christmas, consider this a gift guide for those regular payday gifts to yourself 😉
I should note – literally none of these brands pay me or bribe me I just genuinely love 'em. Happy gifting!
***
For the Potter-nerd: I am loving these pins from Read and Wonder! I may have even bought myself a Christmas present…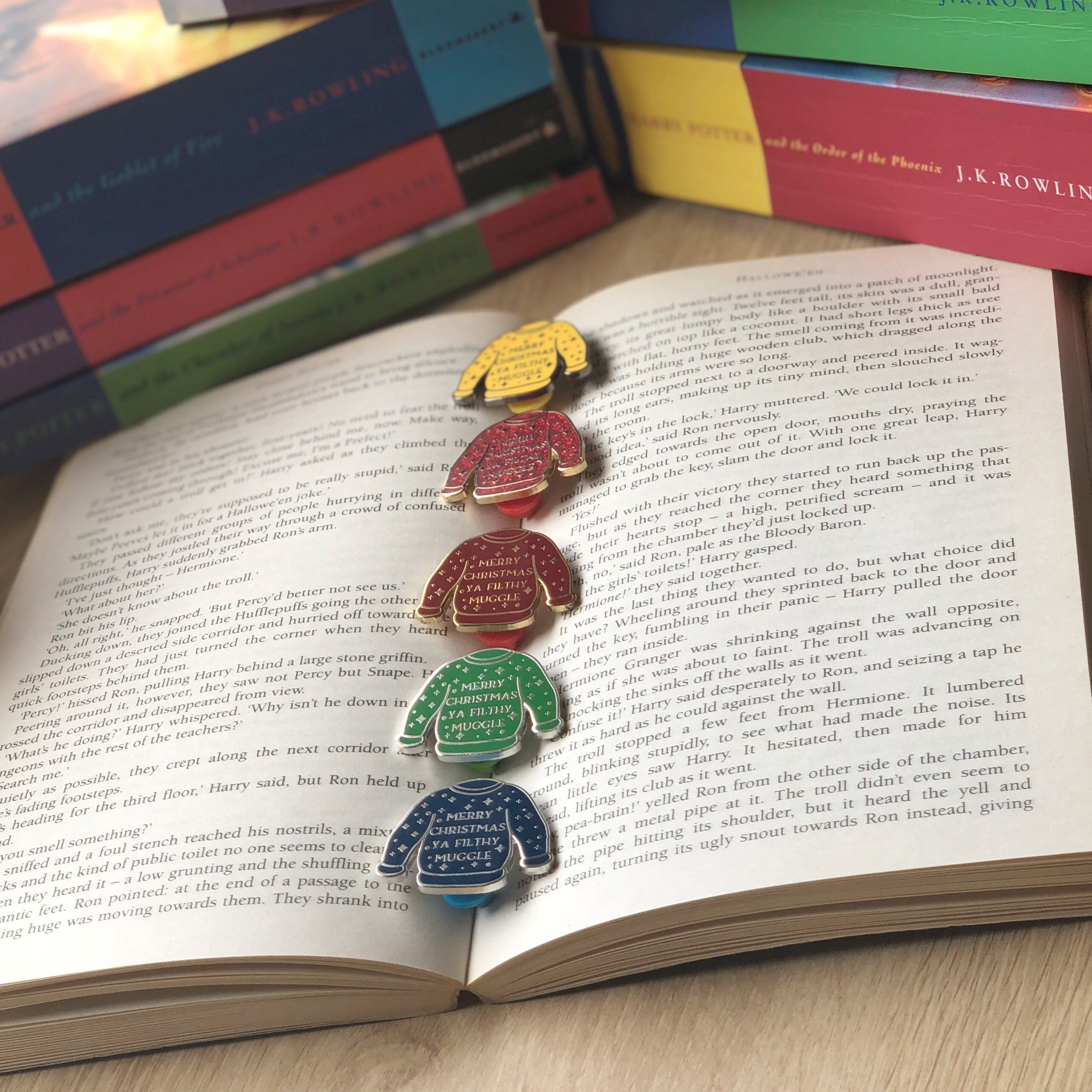 For the Cosy Queens: You can't go wrong with a cute pair of socks! Mooshe do monthly free socks (just pay shipping) and Hot Sox are also an outside-the-box brand with some ridiculously cute designs!
For the tea-drinkers: There are a whole bunch of super cute mugs floating around for the tea-drinking (or coffee-drinking) bookworms in your life! One of my favourites is Kit Cronk Studios. She has a whole range of things to get, but her mugs are particularly cute!
And, for some tea to put in it, check out Literary Tea! They have tea blends for your favourite authors that smell and taste delicious.
For the writers and note takers: You can't go past the bookish notepads on Red Bubble. They're all about Gifting Original, and you can support a whole bunch of independent artists through this site.
You said it!
Or um…just buy them books?
If you're going to do that I'd be forever grateful if you used my Book Depository Affiliate Link – it costs you nothing but helps me keep this little corner of the world afloat 🙂
Still not sold? Hit me up in the comments or my Contact Form with a bit of info on the bookworm in your life and I'm happy to help suggest a book or store for you to buy the perfect gift from! Plus, I may be able to find a discount code or two for you (especially for the bookish stores above)
After all, I FLIPPING LOVE CHRISTMAS.
Happy gifting!
Love,
M xx